Nirvelli
In 2004 maakten we voor het eerst kennis met de nova scotia duck tolling retriever of wel de toller. Na meer informatie gehoord en gelezen te hebben is onze zoektocht naar onze eerste hond en tevens toller begonnen. We zochten een maatje waarmee we konden wandelen, trainen en een keer naar show konden. Onze eerste toller; Alliance De La Vie Premier Collin werd op 24 april 2004 geboren. En heeft ons leven behoorlijk veranderd. Collin was een pracht hond zowel van karakter als qua uiterlijk. Met hem hebben we onze eerste stappen gezet in de hondenwereld. Gehoorzaamheid, jacht, behendigheid en show. Collin deed het allemaal en met veel plezier. De liefde voor het ras is inmiddels alleen maar gegroeid. Collin hebben we helaas op 10 jarige leeftijd moeten laten gaan. Maar hij laat zijn pootafdrukken diep achter in ons hart.
The first time we had seen the Nova Scotia Duck Tolling was in January 2014. We were looking for the correct breed which would fit us, and fell in love with the Toller. After reading & hearing more about the breed we decided to search for a good breeder. Our first Toller; Alliance De La Vie Premier Collin was born on April the 24th in 2004. He really changed our lives. Collin was a beautiful dog, both inside and outside. With him we set our first steps in the dog world. Obedience, hunting, agility and show. Collin did it all and with great pleasure. The love for the breed only grew since then. Unfortunately we lost Collin at the age of 10. But he left his footprint deep in our hearts.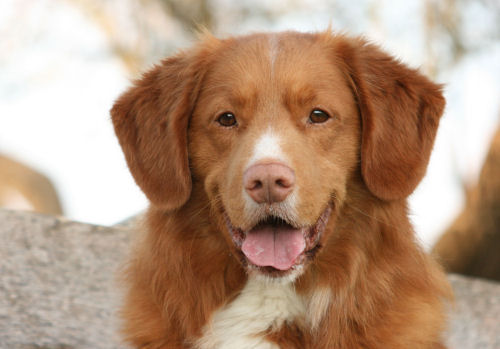 Inmiddels is onze toller familie alleen maar gegroeid en genieten we volop van onze tollers. We zijn veel te vinden in de Brabantse natuur, op trainingen en shows. In 2009 is onze kennelnaam Nirvelli door de raad van beheer toegekend. Nirvelli is een woord dat afkomstig is van de Tudas Indianen. Het betekend Water kind. Wat we een toepasselijke naam vinden voor onze water liefhebbers. Nirvelli's visie op de toller; Een maatje voor in het gezin.
Een goede gezondheid en juist gebouwd.
Kunnen werken in een tak van hondensport.
Ons eerste Nirvelli nest is geboren in 2017. We fokken volgens de regels van de tollerclub.
Meanwhile our Toller family just grew and we enjoy our time with our Tollers. You can find us together in the countryside, trainings and shows. In 2009 our kennel name Nirvelli assigned by the FCI. Nirvelli is a word that is comes from the Tudas Indians. It means Water child. Which we think is an appropriate name for our water enthusiasts Tollers. Nirvelli's vision about the Toller; A friend for the family. Good health and properly built. Ability to work in a branch of dog sports. We bred our first litter in 2017. We breed by the rules of the Dutch tollerclub.